Thank you to all the parents who came to Parent Panel last night. We had a lot of great discussions. Please join us on Monday Nov. 14 from 6-7 in the library.
Parent Panel Tuesday, Sept. 27----6-7 pm in SHE Library Hope to see you there!
Parents The Laps for Learning packet came home yesterday. The website is listed on the letter. Have fun raising money.
GRANDPARENTS ARE SPECIAL!!! "GRANDPARENT'S DINNER" We are pleased to announce that our annual Grandparent's Day Dinner will be served on Friday, November 11th. Our PTC sponsors this dinner and it is a pleasure to have so many grandparents come to eat lunch with their grandchildren. Because this is such a popular event, we ask that only grandparents attend with their grandson or granddaughter. Any other visitors who are assisting the grandparents will need to pay $4.35 per meal and attach the exact amount to the bottom slip. The dinner will again be served in the cafeteria and we will begin serving Kindergarten at 10:30. Listed below is an approximate time schedule for serving: 10:30 AM Kindergarten 12:05 PM Grade 3 10:45 AM Pre-K & Wrap Around 12:20 PM Grade 4 11:25 AM Grade 1 12:45 PM Grade 5 & 6 11:45 AM Grade 2 *** Please attend the lunch of your youngest grandchild. Older siblings can accompany the younger siblings time. *** Reservations are MANDATORY so we may prepare enough food. Please return the reservation slip (one form per family) by Friday October 14, 2022 , if your child's grandparents plan to eat. *If you have not received a reservation slip, please contact your child's teacher or the school office. Thank you

We are not having a Watch D.O.G. kick off this fall. We need you to check out the info at the link below. A background check must be past before you are allowed to be a WATCH D.O.G. :
https://www.usd309ks.org/article/829929
For questions, please feel free to call Mrs. Beede.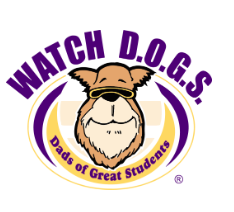 Fifth grade students who need an instrument for band can come visit with Mr. Brinkley about purchasing or borrowing an instrument. He'll be in the Music Room at RVMS, 1616 Wilshire, from 3:30 - 6:00 today Monday 22nd, 2022. Enter the Doors on the Southwest corner of the building.

Nickerson - South Hutchinson USD309 Student Registration / Enrollment is now open and available. Please click on the "Enrollment" link in the upper right-hand corner of every webpage. There is also a link on the Parent & Student Page. Either link will take to the proper webpage to register your student for the 2022 - 2023 school year. We look forward to your children attending USD309 this school year.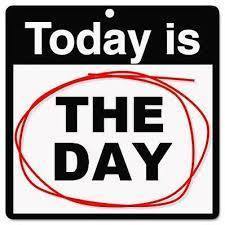 USD 309 is seeking a bus driver for a regular route. Qualified drivers starting at $18.25 per hour, guaranteed 4 hours a day. Call Roy Lewis at 620-422-319. Apply online
www.usd309ks.org

New Student Lunch Information for the 2022-2023 School Year: During the last two years, pandemic child nutrition waivers have been utilized to provide free meals to all students at school. On March 10, 2022, the U.S. Senate passed the Omnibus Appropriations bill, which did not extend these waivers that expired on June 30, 2022. Therefore, the National School Lunch and School Breakfast Programs will be reinstated for School Year 2022-2023, offering school meals at the paid, reduced, and free rates. Families who believe they may qualify for free or reduced-price meals may complete an Application for Free or Reduced- Price School Meals during the enrollment process for SY 2022-2023. Families who do not qualify for free meals will be responsible for paying for their child(ren's) meals at the reduced or paid rates. The District will continue to provide any added information regarding student meals as it becomes available. Please contact our Food Service Department at 620-663-7141 if you have any additional questions.
USD 309 has an immediate opening for an Assistant Wrestling Coach for the 2022/23 season. Contact Rick Blosser with questions 620-422-3226. Apply online
www.usd309ks.org
or USD 309 4501 West Fourth Hutchinson, KS 67501 EOE
USD 309 has an immediate opening for an Evening Building Custodian with full benefits package. Contact Michael Howell with questions 620-422-3205. Apply online
www.usd309ks.org
or USD 309 4501 West Fourth Hutchinson, KS 67501 EOE
USD 309 has an immediate opening for the following Positions: Food Service Cook Food Service P/T Food Prep Apply online
www.usd309ks.org
or USD 309 4501 West Fourth Hutchinson, KS 67501 EOE
USD 309 has an immediate opening for the following Teaching Positions: 7-12 Vocal Music Teacher 7th Grade Social Studies Teacher 8th Grade Social Studies Teacher with full benefits Apply online
www.usd309ks.org
or USD 309 4501 West Fourth Hutchinson, KS 67501 EOE

USD 309 Summer Meals Free to children ages 1-18 May 31-July 29 from 11:00- 12:30 Drive through pick up at NES & SHE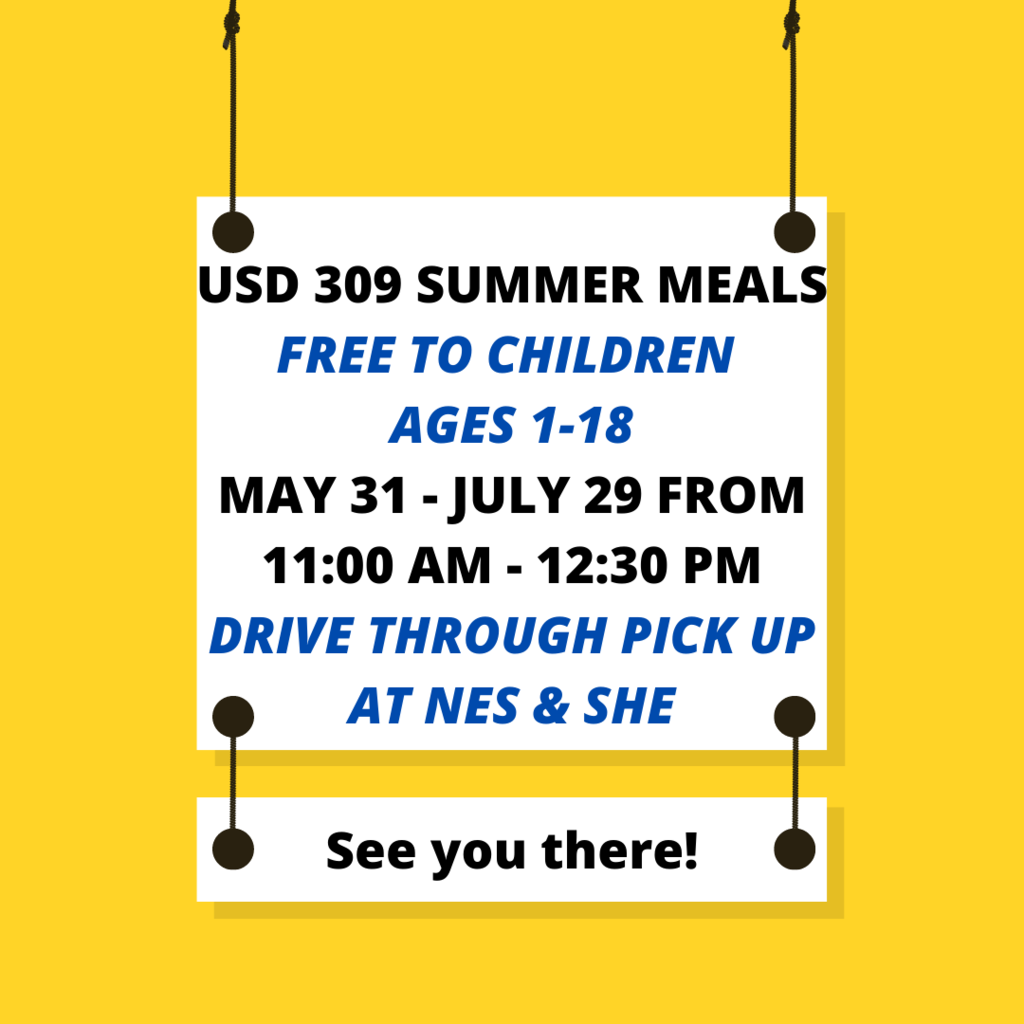 Reminder - School Located Vaccination Clinic provided by the Reno County Health Department on THIS WEDNESDAY, May 18th. SHES - 9am-1130am NES - 1pm-330pm This is for ANY USD 309 student (Prek through grade 12) that is needing vaccinations. Paperwork was mailed to all current 6th and 10th grade students and is also available at either elementary school for anyone interested. Must provide a copy of insurance and return parent permission paperwork. Parents do not have to be present when a child gets vaccines, but you are more than welcome to be, if you'd like. Students that choose to participate in this opportunity will be called down to the health office during the times listed above. Incoming Prek, kindergarten, 7th and 11th grade students do have several immunization requirements that will need to be taken care of BEFORE the 1st day of the 2022-23 school year. There will be another clinic during enrollment on August 2nd - times to be announced. Thank you to the Reno County Health Department for providing this wonderful opportunity.

Please see the attached flyer for the summer Youth Volleyball Camp!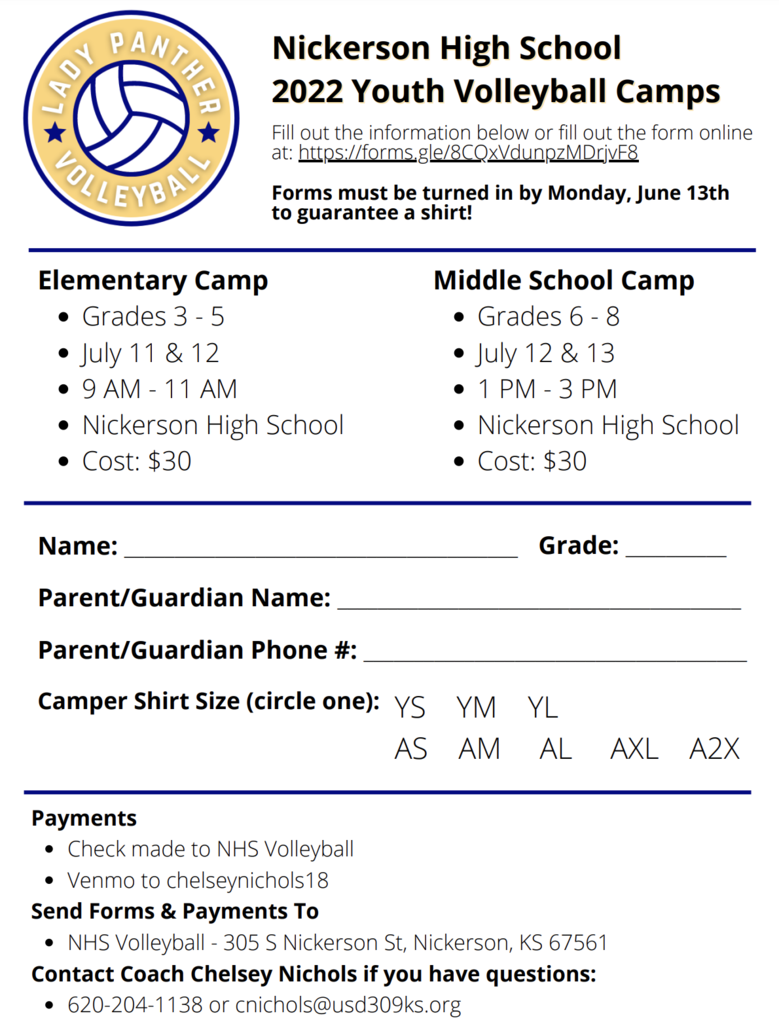 Friendly reminder for Kindergarten Round Up! If you have a student ready for Kindergarten in the Fall of 2022 then please join us Monday, May 16th @ 6:00 pm in the SHE gym. See you then!

We still have yearbooks for sale!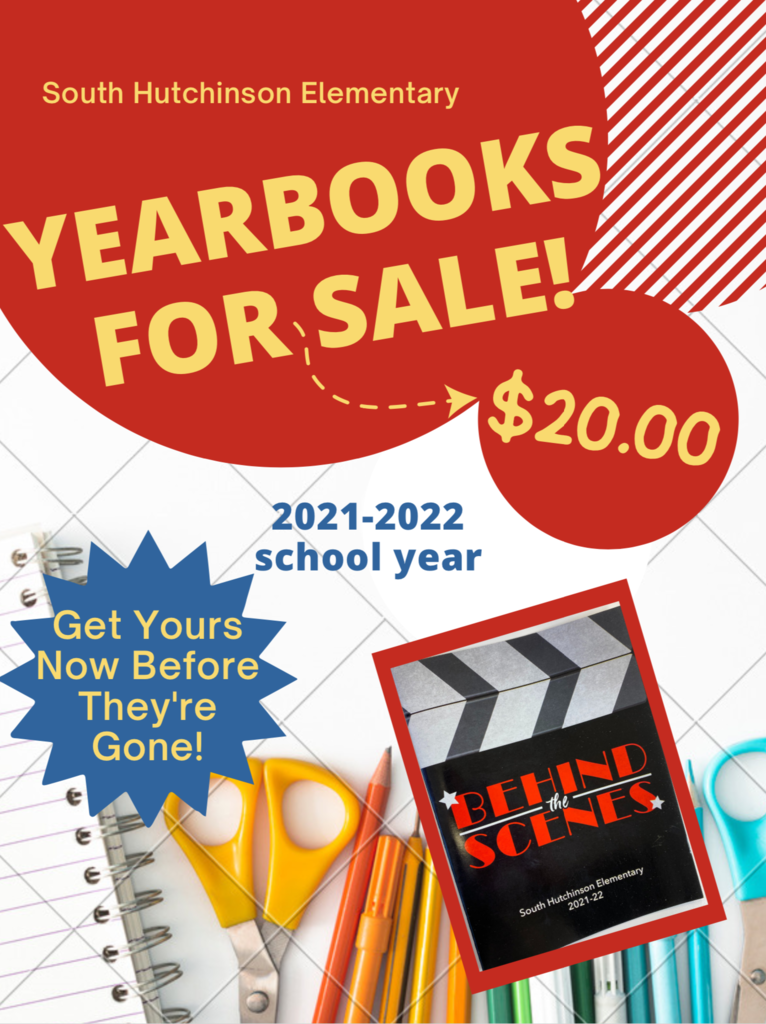 Friendly Reminder that Friday, May 6th is Early Release at 12:40! Pre-K will not have school!

Hey Panther Families! Please see the attached file about our upcoming Dodgeball tournament to help us raise money for our outdoor classroom.